January 08, 2023
Yukon Adventure - Dempster Highway: 21 days, over 10,000 km and up to 4250 ft elevation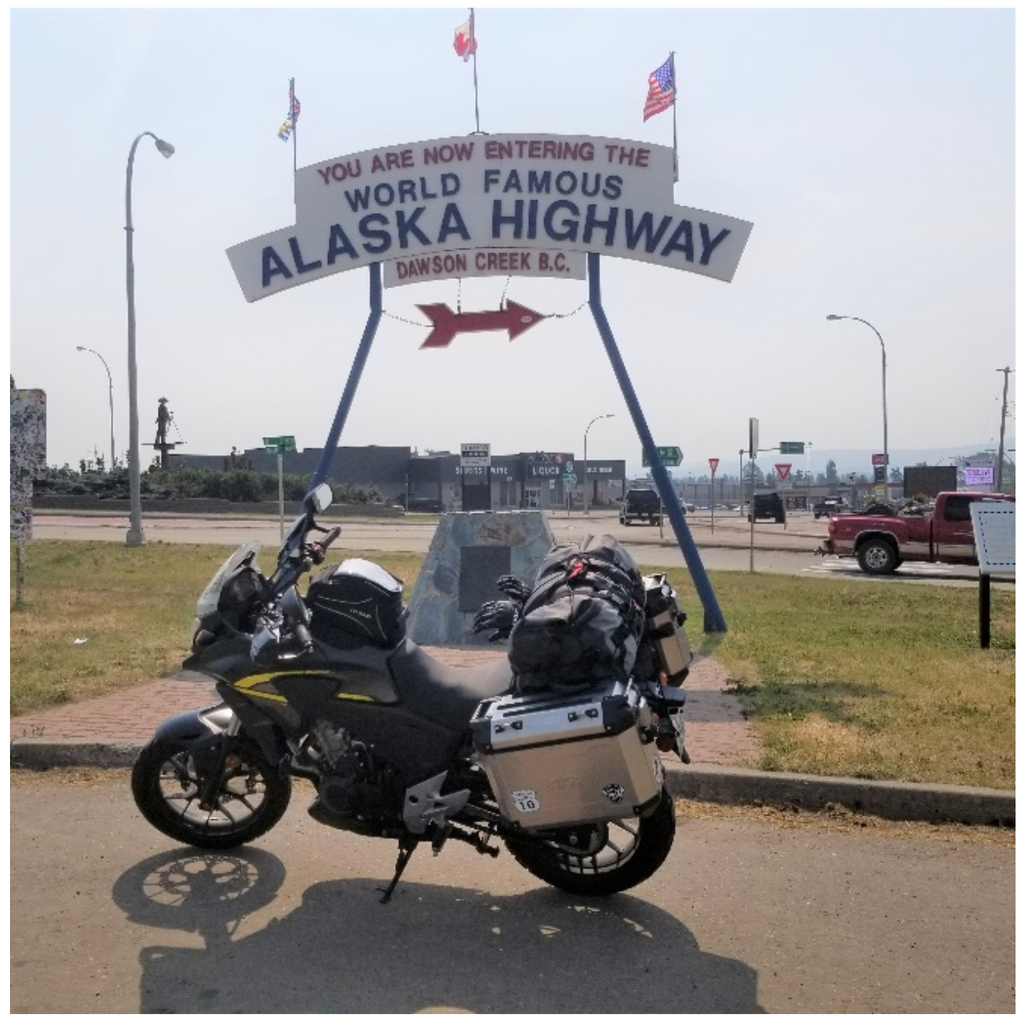 By: Ande Brown
8 min read
My obsession to ride the Dempster Highway in the Yukon began in 2019, when I read the book, Beyond the Trees by Adam Shoats. The author set off on a solo canoe journey across Canada from west to east. His journey began when he was dropped off in a town called Eagle Plains in the Yukon. The only road to Eagle Plains is the Dempster Highway.
He described being able to wander for months without crossing a single road, or even seeing another human being, this sounded very appealing to me, so I started making plans to go.
I've been a motorcyclist for over 20 years. I've traveled to all seven (7) continents and motorcycled on five (5) of them. I've ridden a variety of terrain types and experienced different styles of riding. From group riding, in both large and small groups, self-guided tours, prescribed itineraries set up by touring companies and solo riding. It was the solo part of Shoats trip in the Yukon, that caught my attention, since that is my favorite style of riding. I like setting my own schedule and riding at my own pace. All of the day's decisions are mine.  If I see something I find interesting or want to stop to chat with people on the side of the road for a few minutes or a couple of hours, I will.
Before heading out to the Yukon, I did quite a bit of research and talked to other riders that had ridden the Dempster Highway.  I knew it would be a challenge both mentally and physically, but I love and live for those, "one of a kind, kind of days".
My timeframe for deciding when to travel to the Yukon in the summer of 2021 was dictated by two things, Covid-19 restrictions and Mother Nature.  Not until July 2021 did the Yukon allow travelers into the province, and one had to be two weeks post second vaccination and show proof thereof before entering.  I left for the Yukon on July 13, 2021.
I've highlighted a few of the routes along the way, and provided some lessons learned and what to possibly expect for those wanting to make a similar trek.  My daily route is shown in the table below.  My journey began by riding northwest from Winnipeg, MB to the Yukon, heading south through British Columbia, and then east back to Winnipeg, MB.  The map shows the overall route and approximate number of kilometers traveled. 
Alaska Highway and Summit Pass
I had great weather the first 3 days, which was awesome since I had some long days planned early in the trip. However, it started to rain on and off when I left Fort St John, BC. There are long stretches of the Alaska Highway without cell phone service and expect about 320 km (200 miles) of narrow road with curves and hills with 10 percent grades and few passing lanes. This stretch of highway crosses Summit Pass, the highest summit on the Alaska Highway at 4,250 feet elevation. By the time I reached the top of Summit Pass, the rain was pouring down. At the top of the pass, it was pretty socked in and visibility became extremely poor, about 10m. My biggest concern was the schedule driven commercial truck traffic behind me and how visible I was to them through the pass. When I reached Testa River Lodge, my accommodation for the night, I'll just say I was happy to arrive.  The folks running the Lodge were so friendly and welcoming.  There is nothing more comforting when you're tired, wet and hungry than friendly faces, a roaring fire in the fireplace, and a hot meal of homemade soup and bread. 
Dempster Highway
I was thrilled when the weather report showed two days of dry conditions when I headed out of Dawson City in the Yukon up the Dempster Highway to Eagle Plains. I'm glad I got an early start, because I was in the saddle for over 8 hours, and stopped several times to take in the scenery, making for a pretty long day.  Because I only saw a few other vehicles, I felt like the only person on the planet for most of the day.  The scenery was simply phenomenal. 
My body was tired from all the jarring of the rough gravel road, and my fuel tank close to empty when I arrived in Eagle Plains. I spent the night in the Eagle PIains Hotel, which I booked before leaving Winnipeg, since it is the only hotel between Dawson City and Tuktoyaktuk.  After hearing a few grizzly bear stories, I wasn't sure I wanted to camp, however I never saw a single bear on the Dempster Highway.
Eagle Plains has a population of nine (9), and trust me those nine people do EVERYTHING.  They run the gas station, lodge, restaurant, and bar. I was impressed to say the least. The food was great and the ambiance and history of the lodge makes for a really unique and interesting experience.  I left at sunrise the next morning to ride the 37km north to the Arctic Circle sign, then rode back to Dawson City. 
An important thing to keep in mind is that along the Dempster Highway there is no cell or phone service, wifi, gas, or mechanical services until you get to Eagle Plains as well as no access to medical services.  The nearest town for medical services is Dawson City.
Recommendations:
The following reflects my personal opinions from my experiences:
Purchasing a Gore-Tex riding suit and boots can be quite an investment, but trust me, if you want to moto tour you will inevitably hit inclement weather. What your wearing can make your experience completely miserable or quite comfortable.  Once your core is cold, your soaking wet and/or your feet are freezing, it's hard to continue with good riding focus.  I ride in a Gore-Tex Klim riding suit that has venting and body armor, full length Klim Gore-Tex gloves and Gore-Tex Alpine Star knee high riding boots when I tour.  I always carry a neck buff, thin skull cap for under my helmet, and glove liners.  I also pack a heated jacket for really cold days. I ride in merino wool shirts, underwear and socks even when it's warm out.  Merino wool washes and dry's quickly, as well as wicks sweat and never gets too smelly.  My ride through Summit Pass on this trip would have been absolutely miserable without the above listed riding gear.
Whenever I'm riding solo, but particularly on this trip, since many areas had no cell service, I always leave a route itinerary as well as the name, location and phone number of my accommodation with my partner.  Several times during this trip, I was unable to call home and check in.  My partner would call the accommodation's land line and could at least find out if I had checked in or out that day.
I carried extra fuel in two MSR fuel bottles (887 mL) in my panniers.   My tank (15.7L) was close to empty a few times. I've learned in remote areas, just because you see a gas station, it doesn't mean it's open. I was glad I had the extra fuel although, I didn't require it.  It's always best when traveling solo to be over prepared rather than under, and it's always nice to help someone in need.  The fuel range listed for my bike is approximately 420km.
I always bring a first aid kit including an Epi-pen since I don't know if I'm allergic to bees and wasps and it was the middle of summer.  To reiterate, if something serious happens on the Dempster Highway, you are at the mercy of the next passerby, which can be a long time.  I talked to several semi-truck drivers who regularly transport goods to Tuktoyaktuk, the furthest point on the Dempster Highway.  One trucker told me he often picks up riders who are "upside down" on the Dempster, with "rider, bike or both broken".   I'm happy to report, the bike and I were never upside down the whole trip.
My final advice for riding solo up the Dempster Highway is to be cautions, ride smart and ride confidently.  I do not recommend riding the Dempster when it's raining or really wet. As other riders will attest, when it's wet, and there were a couple of wet sections I rode through, it's crazy slippery like nothing I've ever experienced. Watch your speed and avoid heavy breaking.  For most of the Dempster, I traveled between 50-80kpm, but in the wet sections I really slowed down to between 25-30kpm.  For me, riding is not a race, and I enjoy taking in as much of the scenery and wildlife as is safe to do so when riding.
Mechanical Issues:
Right front fork seal started to leak a few days after the Dempster.
Left turn signal fastener fell out on the Dempster, used a zip strap as a temporary fix.
Radiator fan started to make a horrific sound but the bike was never unrideable.  After thoroughly cleaning the fan blades, the noise stopped.  I would recommend a radiator guard.
Equipment List:
Moto: 2015 Honda CB500X
Tires: Shinko 705 Dual Sport 70/30
Givi Trekker Outback 37L Aluminum Side Cases
Cortech Magnetic Tank Bag
SW Motech – KOBRA Handguards
KOSO Heated Grips
Tent, sleeping bag, sleeping pad
MSR Fuel bottles x 2
Flat tire repair kit and tools
Big thank you to the following:
Even though I was riding solo, the trip was not a solo endeavor.  Without the help of Louis and Dan at Moto49, Marc from Prairie Moto and Ron at Buffalo Moto, neither the bike nor I would have been prepared for the trip.  Thank you for all your help and advice.  And big, big love to my partner who has supported me on any and all adventures.
Please feel free to contact me if you would like additional details about the ride. 
With Gratitude, Ande.  ande@icoglobes.com