October 29, 2022
Rocky Mountain riding - Winnipeg to Prince George and Beyond, summer 2022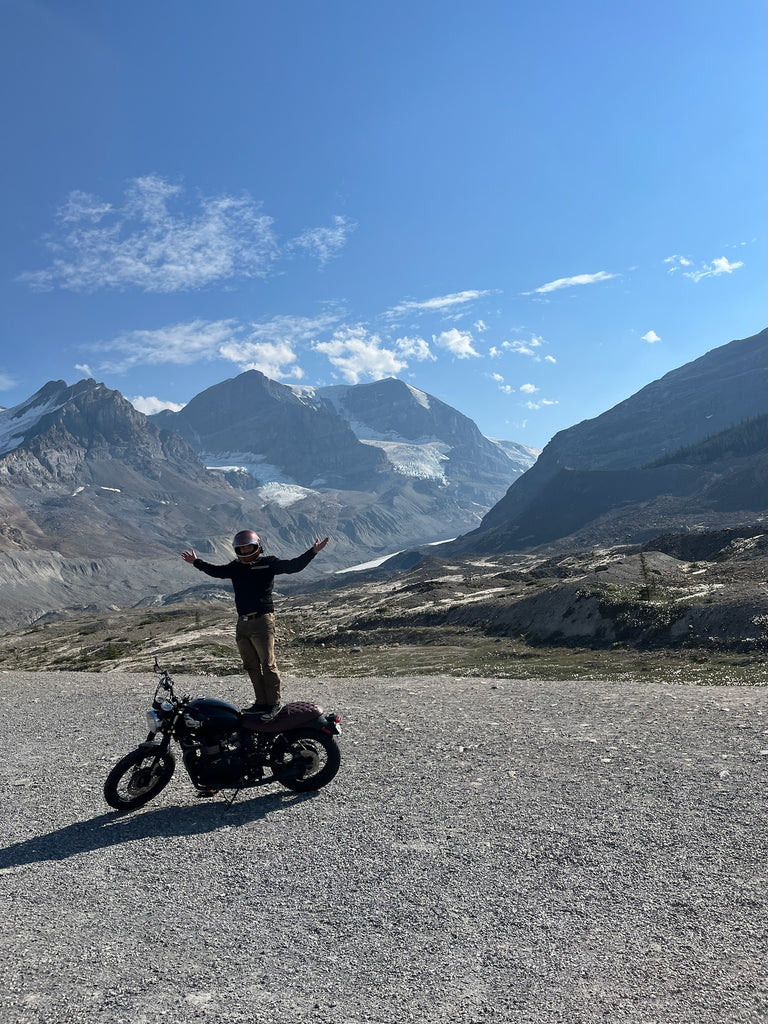 2 minute read.
So, we took a vacay. Thanks to everyone for your patience and putting up with our shortened hours and being closed for a week. We're back now and wanted to share our experience with you.
Obviously with Denton in tow, we trailered our bike (2011 Triumph Bonneville T100) behind our Honda Civic. From Winnipeg we drove to Saskatoon to visit family. I haven't spent time in Saskatoon for a very long time and it had quite the cool downtown from what I last remembered. The river valley (North Saskatchewan) was beautiful; paved with walking and biking paths. The splash pad was greatly appreciated by all ages since it was over 30 deg. We hit up Bagel YXE for our daily coffee and treat. We didn't ride much Winnipeg to Saskatoon… We were waiting for mountains! I am reminded though, even though I was born and have lived my 38 years on the prairies, they are beautiful. I will never get tired of the golden colour of the fields, the blue sky and never-ending horizon. Especially when there are thunderstorms brewing!
We then moved onto Cochrane, AB to visit friends. We hung out quite a bit at the awesome public wave pool. We checked out the farmers market and neighbourhood parks. We got our daily morning cappuccino and huge muffins from Cochrane Coffee Traders.
Louis had the opportunity to go to Calgary and check out Ill Fated Kustoms 7th Kickstart Show. Stay tuned for a future blog post about that.
We rode the bike on our way to Cochrane. Highways were pretty good and the hint of Rocky Mountain foothills in the distance gave me (Robyn) some practice at highway speeds before we hit the curves and steep inclines of the highest peaks.
Onto Banff along the Icefields Parkway and beyond…
Here's where the interesting riding began!
Banff to Jasper was pretty busy traffic wise; it is their peak tourism season after all. We rode North to Hinton for the night. The second day of mountain riding we took highway 16 to Prince George. Going northwest is essentially exiting the mountains with ups and downs at 5-7% inclines for kilometres on end curving around mountain peaks. Louis and I took turns riding the bike and chauffeuring Denton in the car. We each got pretty wet from scattered showers. The further into the higher elevation we got, the more the rain started to feel more like wet ice hitting my riding jacket. 
Once in Prince George we headed further Northwest along the Highway of Tears to Burns Lake. We stayed at the Indigenous owned Key-oh Lodge. This is where we met 4 riders from the Baden Germany chapter of the Harley Owner's Group. They had flown into Calgary and were riding to Fairbanks, Alaska and back over 21 days. They said they had hit every type of weather; rain, hail, thundershowers, and even snow. They had done the same ride 11 years earlier, and obviously enjoyed it so much they had to do it again.  
The Ride Home
Here's where the "can't get that shit eating grin off your face" riding began…
Entering the mountains from Prince George going south towards Jasper was the most beautiful view. The further south we drove, the mountains seemed to fully engulf us. It was hard to stay focused on the highway, traffic and wildlife when all I wanted to do was have my head on a swivel. For some reason the perspective heading south on the Icefields Parkway seemed to be more beautiful then heading north, or maybe it was the difference in the weather. Though it was tough not to stop at every single rest stop and view point to snap a photo to share, it was pretty easy to just stay on the throttle and push the bars into the curves… until there was a camper or tour bus to pass. 
Once we stopped in Cochrane, we motored home across the Prairies stopping only in Moose Jaw. The only drama we had started by hearing an odd sound from the trailer, thinking it was maybe a wheel bearing (being a used trailer, the bearing age is unknown), then we noticed smoke and started to slow down, then foooup… there goes the new spare tire that was mounted under the trailer, sidewall was completely worn away... Ooops. Glad we didn't actually need it! Hope to correct that foreseeable design flaw in the trailer sometime soon.
This is a map of our full route! It went by way quicker than we wanted!
If you get the chance to do some riding out west, we definitely recommend it!
Next riding trip, Babes Ride Out in California? Lake Superior circle? Ely MN? Moab UT? Austin TX? Any suggestions? 

Do you have a ride adventure from your summer that you want to rave about to the community? Let us know! We'd love to share them here!